&nbsp While El Rio might appear to be just another municipal golf course, it's not. It's something very special. There's a pro golf history, a celebrity golf history, an economic history, a civil rights history and a natural history, all at El Rio Golf Course.
&nbsp El Rio was the first grass golf course built in the state of Arizona, the third overall. It was originally designed by legendary golf course architect William P. "Billy" Bell in the late 1920s. Hi Corbett played the first round of golf at El Rio on November 10, 1929. A renovation was done in 1936 by another legendary golf course architect, A. W. Tillinghast. It was the only private golf club in Tucson until the Tucson Country Club's grass course was built in 1949. El Rio remained a private club until 1968 when it was acquired by the City of Tucson. A restoration was done in 2004.
&nbsp The Tucson Open was played at El Rio from 1945 through 1962. It was the original site of that PGA Tour event. Many of the legendary greats of that era played at El Rio
&nbsp The purpose of this web site is to preserve the rich and multi-faceted history of El Rio Golf Course, THE most historic golf course in the state of Arizona. When you visit El RIo Golf Course, be sure to see The Wall of Fame. This web site was instrumental in having it established.

(L to R) Ben Hogan, Bobby Locke and Jimmy Demaret at El Rio
Jack Sheaffer, Arizona Daily Star, 1948
&nbsp Babe Didrikson Zaharias played in the 1945 Tucson Open. It was her third PGA event in a row, starting with the L.A. Open. Her appearance in the Tucson Open, where she finished in 42nd place, marked the last time a woman played in a PGA Tour event until Annika Sorenstam played at Colonial in 2003. Babe is the only woman ever to make the cut in a PGA event and, to this day, her performance at the Tucson Open remains the last time any woman has done it...and she did it at El Rio.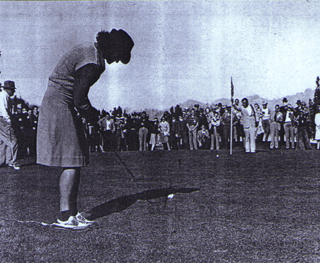 Babe Zaharias at El Rio where she played all 4 rounds in 1945
&nbsp 1945 was a phenomenal year for Byron Nelson. He won 18 PGA tournaments that year, including an amazing 11 in a row, BUT he did not win the Tucson Open at El Rio. He finished second to Ray Mangrum. Byron Nelson never did win the Tucson Open. Sam Snead never won the Tucson Open either, but his nephew J. C. Snead did win it in 1971 (but not at El Rio).
&nbsp According to the Tucson Conquistadors, the group who has organized the tournaments since 1966, "In the early days of the tournament, the purse and support money were actually procured through Calcuttas and big-stakes craps and blackjack games held in a make-shift casino at El Rio." There were no title sponsors in those days.
&nbsp There are many interesting stories.
&nbsp Peter Aliss, the long-time expert golf commentator for ABC Sports, had an accomplished pro career in Europe. He played for Europe on 8 Ryder Cup teams and won 23 tournaments, including 2 British PGAs and several national open titles, in Europe. During this career which spanned more than 20 years, he only played on the American tour for six weeks, and he played at El Rio where he won $285 in 1955.
&nbsp In his first appearance in the Tucson Open at El Rio in 1946, Ben Hogan won $186. Ken Venturi won $75 in his first appearance (1959). Sam Snead won $55 in 1948. There was a 7-way tie for 25th place in 1953, when only the top 25 finishers were in the money, and each won $7. Arnold Palmer won $0 in his first appearance at El Rio in 1955.
&nbsp Frank Stranahan was an accomplished amateur golfer. He won the British Amateur twice and finished runner-up in the Masters, the British Open and the U.S. Amateur. On February 1, 1952, in the second round of the Tucson Open at El Rio, Frank had an 18-foot eagle putt on the 18th hole for a 59. A 59. He 3-putted, but his 61 set a new 18-hole Tucson Open record. It would be over 25 years before the first 59 in PGA tournament play would be recorded by Al Geiberger, who had also played at El Rio.
&nbsp Also in 1952, during the first round, Hall of Fame golfer and two-time winner of the Tucson Open Jimmy Demaret made a 14 on the par-5 18th hole. He hit 5 balls out of bounds off the tee. Demaret ended up withdrawing during the second round of play. One year later, prior to the start of the 1953 Tucson Open, Demaret himself unveiled a sign at the 18th tee which read:

---
&nbsp According to Just Memories, this is not a book by Roy P. Drachman:
"Golf at El Rio in those days [around the 1930s] was an important part of the life of most prominent Tucsonans. The club was small and everyone knew each other, how well or how poorly each member played, and how much each preferred to bet on the matches. When the club first opened in 1929 the bets were usually 50¢ Nassau, which meant that you would lose a couple of bucks or at the very most-under the worst conditions, no more than $5.00. However, things got so tough during the depths of the Depression that everyone was playing, believe it or not, for 10¢ Nassau. The caddies were paid 25¢ for eighteen holes.

El Rio barely survived and wouldn't have if Hi Corbett, George Stonecypher, a local baker, and Don Fogg had not financed the losses for a couple of years. The three of them had promoted it as part of a real estate development, but the location was such that it never caught on.

It was on the wrong side of the tracks. The residential lots around the golf course were not bought by those who could afford to build the kind of homes which might have triggered the successful development of a nice subdivision. The developers finally gave up on the idea of selling large lots, and sold off the land facing the golf course, in small lots, to Mexican-American families who lived in that general area. There was no sewer line to serve the area at that time, and every homeowner had an out house in back of the home, facing the golf course. Once when the famous woman golf professional, Babe Zaharias, played an exhibition match at El Rio, she remarked after a few holes, 'Most country clubs have mansions facing the course, but this is the only one I've ever seen that has shit houses facing every fairway.'"
Since El Rio opened in the midst of the great stock market crash of 1929, the Great Depression may have had something to do with the plans for an upper-scale subdivision not taking off.
&nbsp In the spring of 1959, a charity exhibition match was held at El Rio to benefit the Beacon Foundation. The participants were Bing Crosby, Desi Arnaz, Randolph Scott and Phil Harris. Desi Arnaz had an interest in helping deaf children and, following the match, was told by Randolph Scott that there was a school for the deaf and blind just down the street from the course (there still is). Desi Arnaz popped in at the school unannounced to lend his support. Another exhibition match to benefit the Beacon Foundation was held at El Rio in February of 1960 with Bing Crosby, James Garner, Randolph Scott and Phil Harris.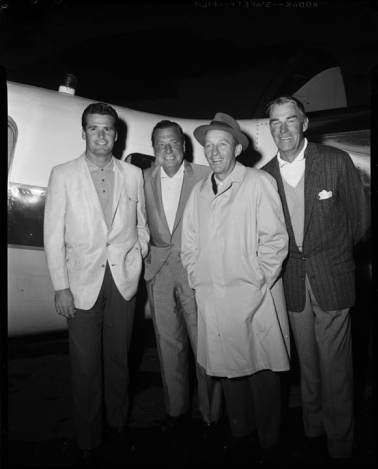 Sometimes, celebrities would just "pop in" to play golf at El Rio. Here's Harpo Marx in the El Rio clubhouse in 1956: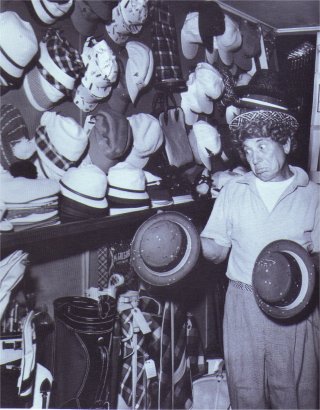 &nbsp Joe Louis, Heavyweight Champion of the World 1937-1949, played in the Tucson Open at El Rio as an amateur in 1952. He shot a 74 in the pro-am event. After firing a 69 in the first round, he was quoted as saying "I sure do like this course". He then shot a 72 in the second round and a 78 in the third round. He got into so much trouble in the fourth and final round that he picked up his ball and did not finish.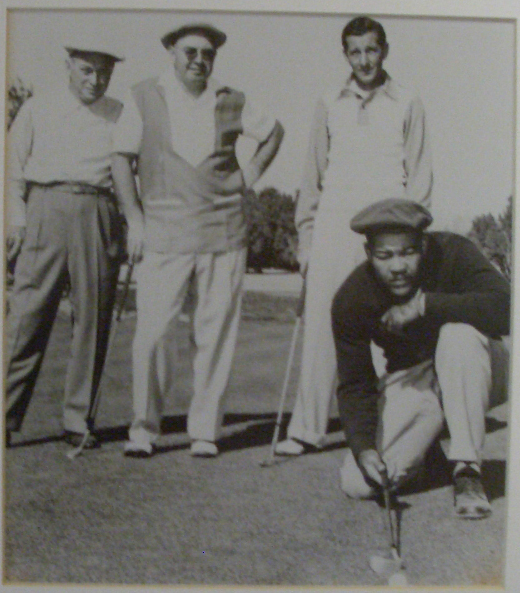 Joe Louis at El Rio
&nbsp According the autobiography of Joe Bonanno, A Man of Honor, chapter 32, "...I was one of the stockholders of the El Rio Country Club...".
&nbsp The great Walter Hagen probably played at El Rio. He did play in an exhibition match in Tucson sometime before the Tucson Open was established, but it has not yet been confirmed at what course it was played. At the time, El Rio was the only private club in Tucson and the only other course was "the muny", Randolph, so it's almost certain this match was held at El Rio. It was the site of other exhibition matches.
&nbsp Did Bob Hope ever play at El Rio? Yes! It has been confirmed by eye-witnesses. Hope was part owner of the Cleveland Indians when the team did their spring training in Tucson starting in 1948. There are photos of him hamming it up at Hi Corbett Field in 1949. Since El Rio was THE golf club in Tucson and site of the Tucson Open at the time, where else would he have played? You know he had to have played some golf when in Tucson. Considering that Bing Crosby played at El Rio on more than one occasion, it's no wonder that Bob played there.
&nbsp Did Jack Nicklaus ever play at El Rio? Nope. The first and only time Jack played in the Tucson Open was in 1963, the first year the event was held on a course other than El Rio. It was held at the Forty-Niner Country Club that year. Jack scored a 9 on the very first hole (a par 4) and an 11 on the par-5 eleventh hole and failed to make the cut. He never played in the Tucson PGA event again.